JANUARY 4, 2005
All the best to everyone in the new year!!! Not too much done over the
holidays but I did finally manage to finish the plans for the new clutch set up for the blower drive. I'll be ordering the new windscreen and finally
get things rolling for having the new rims fabricated.
JANUARY 16, 2005
Rebuilt the door hinges, balanced drive shaft, glass bead and paint inner
fenders/mudguard.
FEBRUARY 24, 2005
Not much to report lately other than the shell has been completed. It's all ready for final prep and paint. Engine bay, underside, boot, interior all
painted. Car will be coming home in a few days so that I can install all the new suspension and set the engine and gear box in place. This weekend
the car will go thru a basic mock up of all the panels to check for
alignment etc and i'll try to post a pic or 2 if I get to the shop before it's
taken apart again.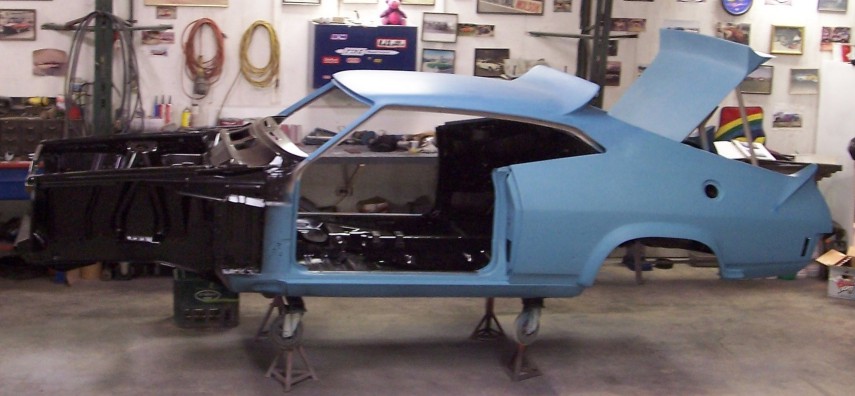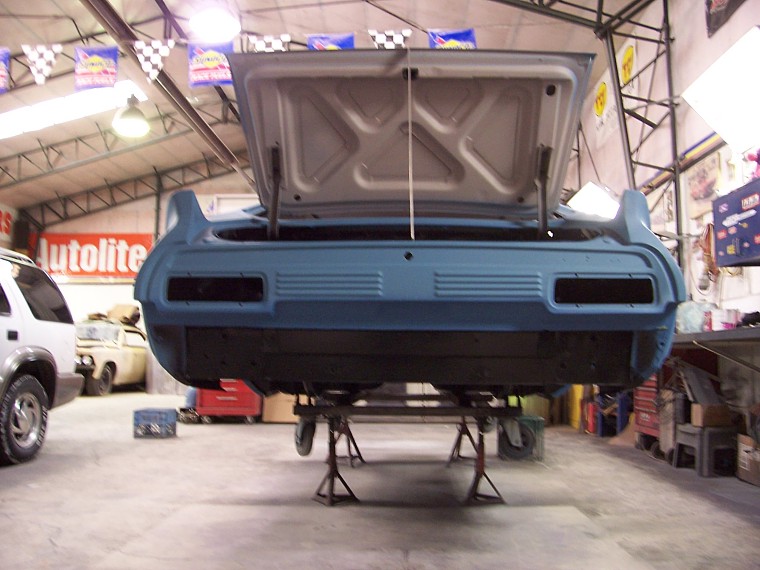 MARCH 2, 2005
With the car back home, I have plenty to do now. Rather than just
basically installing the suspension and engine, I will assemble as much of the car as possible so I have little to do later after the car has been
painted. Here's how it looked last weekend….we're back down to a bare
shell now and I'll start assembly this weekend.P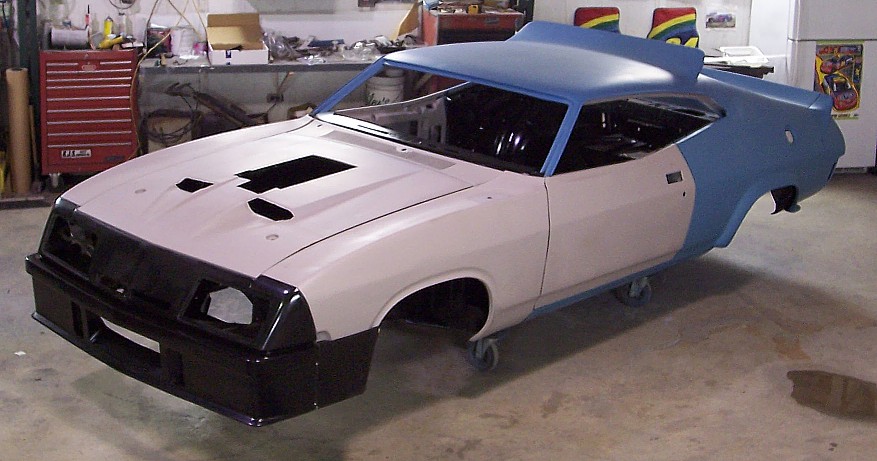 MARCH 7, 2005
Installed new leaf springs only to find that the car sat 4 inches too high. I brought them back to the place that made them, showed some pics and
the guy de-arched them while I waited. Have now reinstalled them and
they sit perfect ! So the rear diff is now in and so is half of the front
suspension…looking forward to seeing the car back on it's wheels again.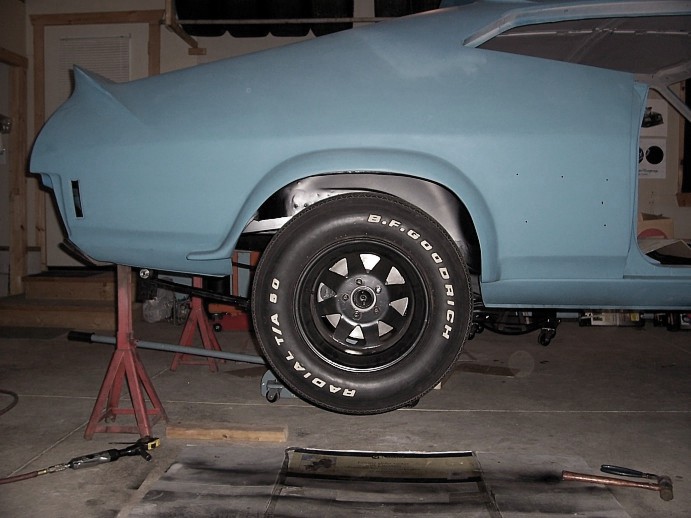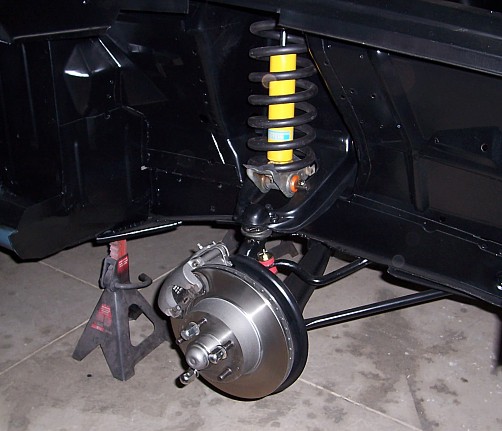 MARCH 28, 2005
Bought new clutch, pressure plate and flywheel. Inspected gearbox
internals, then cleaned and painted the unit and then rebuilt the shifter. Got the seats back for the trim shop, still have to clean and paint the
tracks and then reassemble. Picked up some clips/nuts at a swap meet
along with a new fender mount solenoid as I'm going to convert my
system over.
APRIL 6, 2005
Spent a few hours glass beading more parts, rebuilding wiper motor, installed motor mounts, front suspension all assembled but looking into new front brake rotors as the old ones are borderline. Need to find the proper shifter as mine was cut down 2 inches by the previous owner. Dash
frame all cleaned and painted, start retrimming the side panels for the
parcel tray.
APRIL 25, 2005
Finally finished dying the seats with a top notch product, they look like
original and I tried to rub it off with no luck even after sitting in the
direct sunlight for 3 hours in 75F temp. I decided to paint the master
cylinder as the original finish was not as clean as the rest of the engine
compartment. Installed new firewall insulation, heater box and vent
boxes, front wire harness, dash brackets, clutch/brake pedal box, brake
booster, cut the carpet underlay. New rotors also put on so ALL
suspension is done!!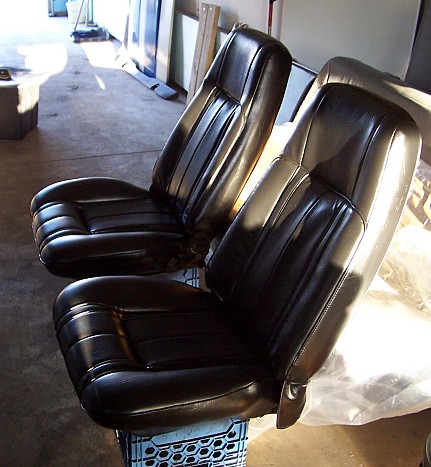 MAY 7, 2005
All new brake lines bent up and installed, clean and paint clutch master
cyliner and installed, install main master cylinder, wiper motor is
completely restored, accelerater pedal assembly rebuilt (galss beaded,
new bushings, painted), new bonnet release cable in. With the brake lines done I can finally install the engine and gear box. I hope to do this very
soon.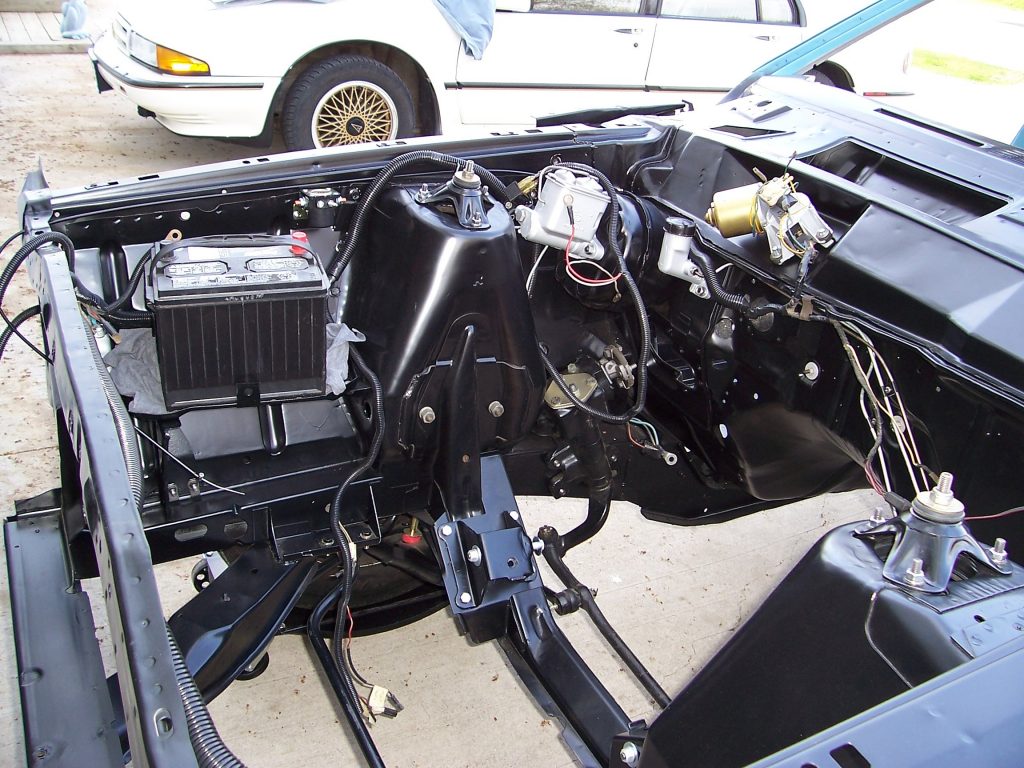 MAY 23, 2005
Thanks to Bill Budd and Jean, the engine and gearbox are finally back in
their home and with no scratches on the firewall or shock towers. I've
also installed the gas tank and rear wire harness and now figuring out a
good spot for the electric fuel pump.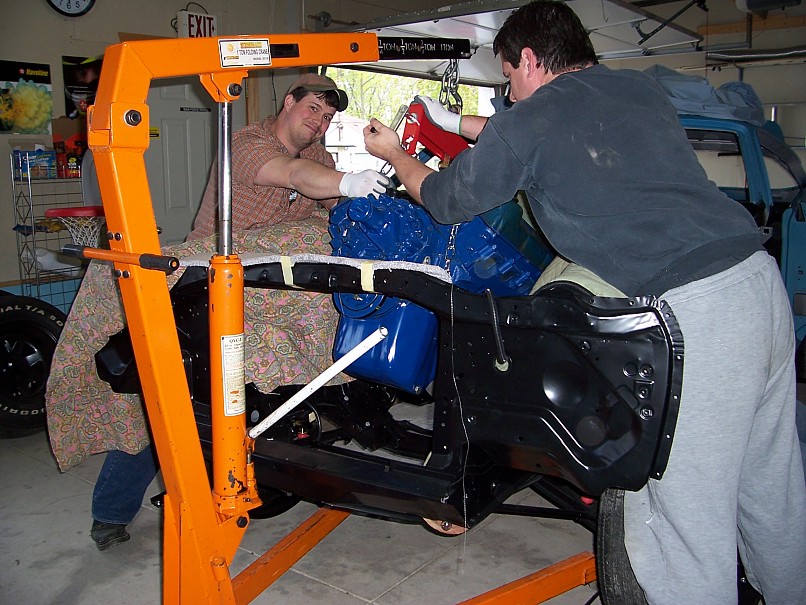 JULY 16, 2005
Purchased another vintage upper blower pulley and an underdash air
conditioner unit…A/C for looks only though. Restored the steering column and included new ignition switch, indicator stock. Still debating where to mount the electric fuel pump and run the larger aluminum line as well
as debating which type of starter to use (fender mount or starter mount
solenoid). Been experimenting with getting rims custom made and
naturally can't make up my mind on which way to go. Some parts from
Australia are still due in also.
SEPTEMBER 26, 2005
Been very busy with home renovations but finally managed to put some
time in on the coupe this week. Steering column is in and I've routed all
the engine compartment wiring and installed the rest of the dash wiring. Gas pedal cable and speedo cable all done, headlamps installed, forgot to clean up the belt pulleys and alt bracket so that's done now, fender
mount solenoid all in and working perfectly too.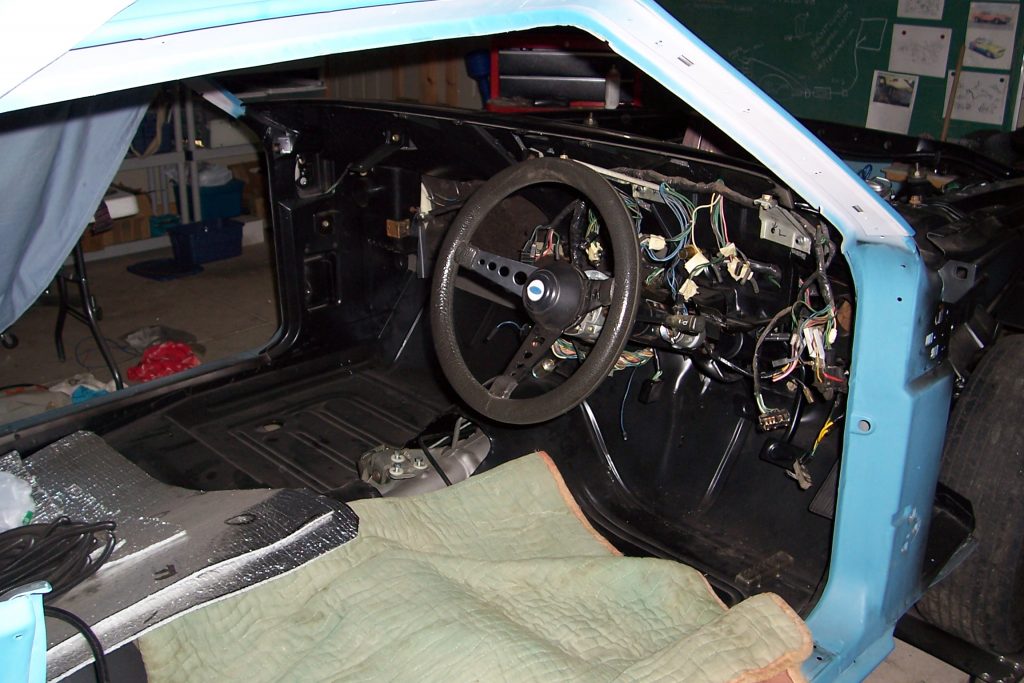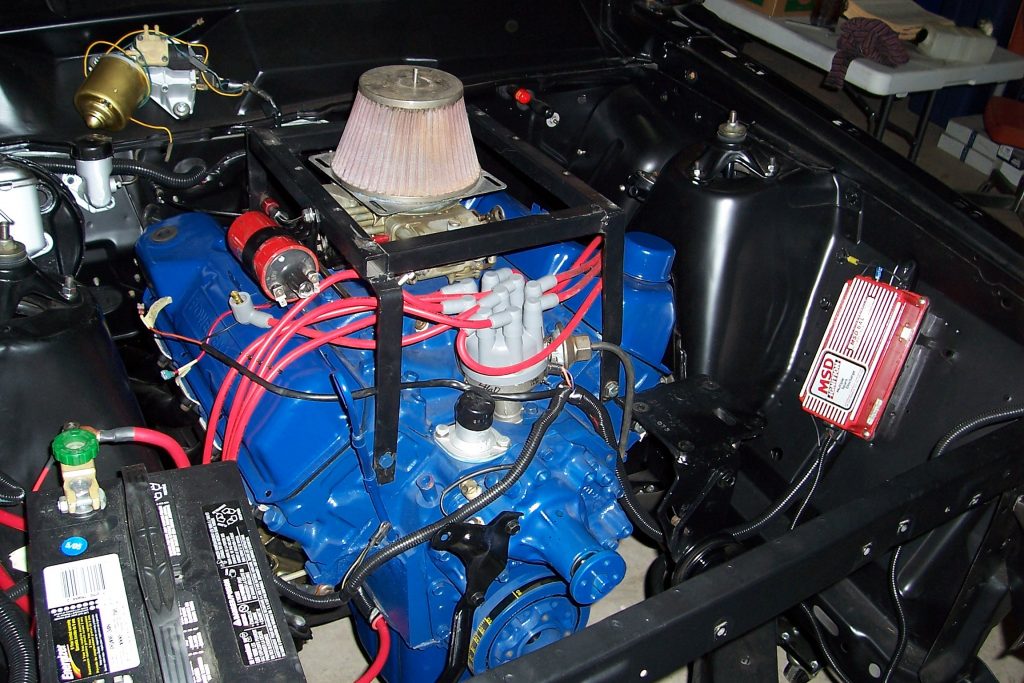 OCTOBER 8, 2005
Thanks Garrison Muffler here in Fort Erie, my exhaust is finally on !! We went to the shop after hours and they worked their magic. They spent 3 hours getting it all just right and the end result is amazing. The entire
system was done with ball and flange which will allow for ease of making adjustments and maintenance. Bill Budd also came down and did his
usual 'surpervision' work.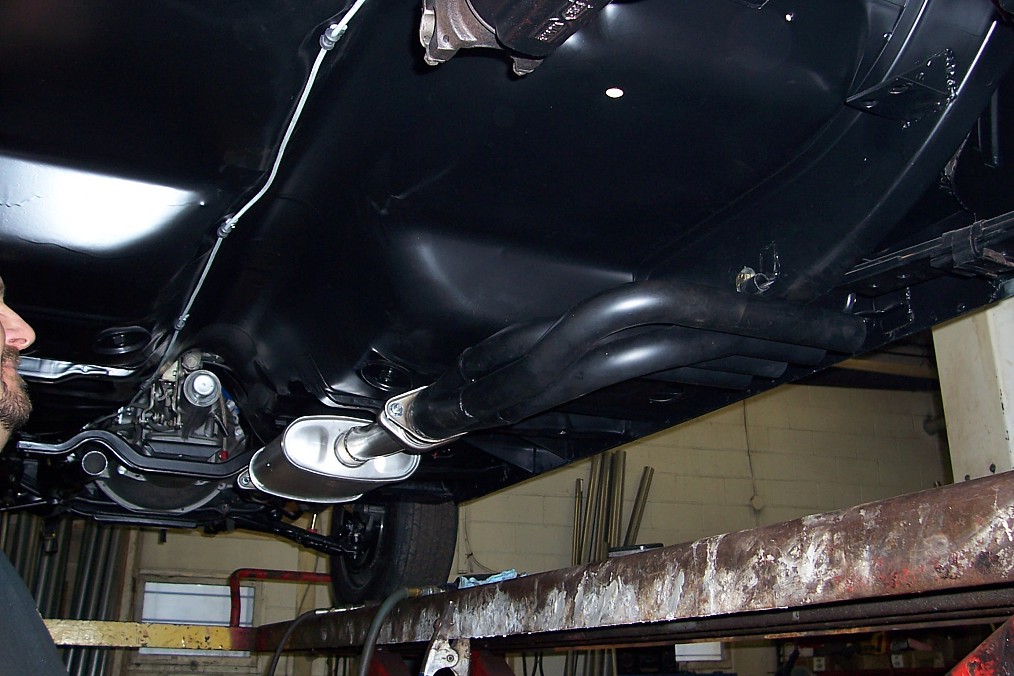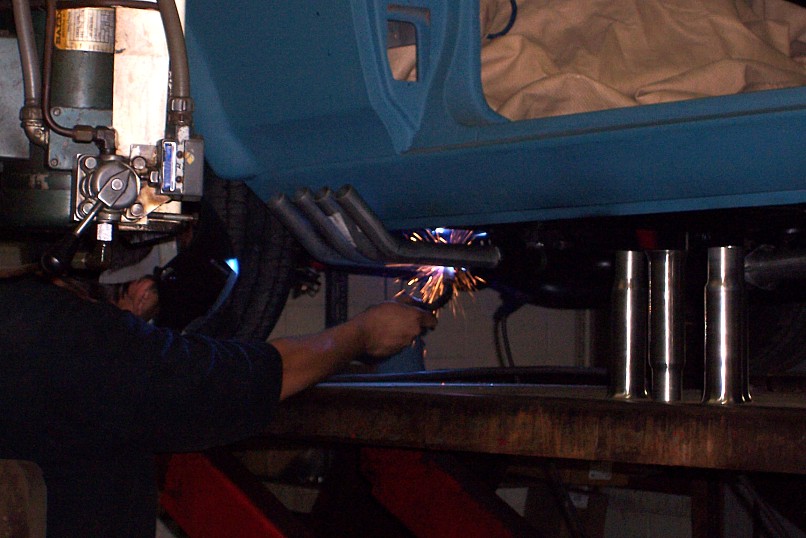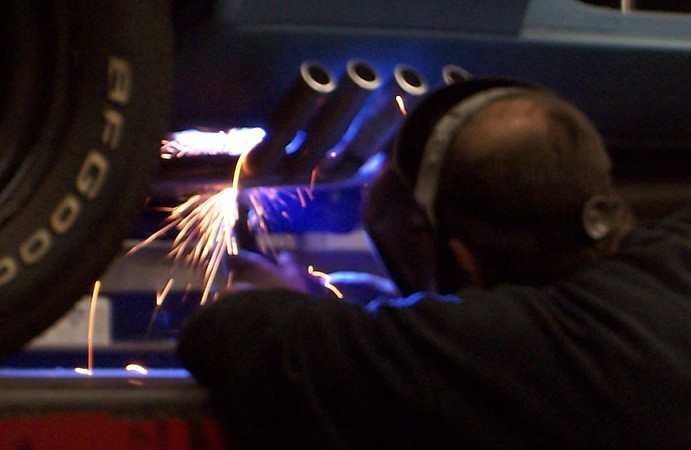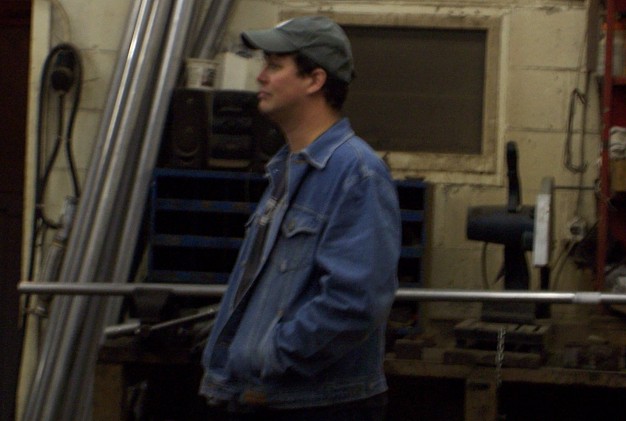 OCTOBER 9, 2005
After 2 years of waiting, the coupe has finally come back to life !!!
"Firebird" Frank came over to assist in breaking in the new cam and do
his usual carb setting technics. The only problem we ran into is the rad
cap which was not the proper one to begin with, and it made a bit of a
mess when the car was shut off…other than that it was a perfect day. The new cam sounds great. The mufflers give it the perfect sound too, very
close to the movie car I might add. The new zoomies have that correct
"shake" to them as in the "garage scene". I still need to properly mount
the fuel pump and line as I had to wait until the exhaust was done.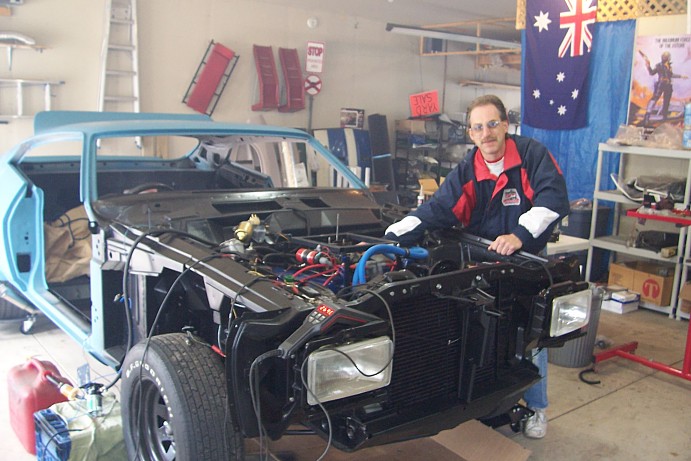 OCTOBER 12, 2005
Electric fuel pump and almuminum line all mounted. The pump is a bit
noisy for my taste so I added some extra rubber mounts. It helped but it's not as quiet as a mechanical……oh well.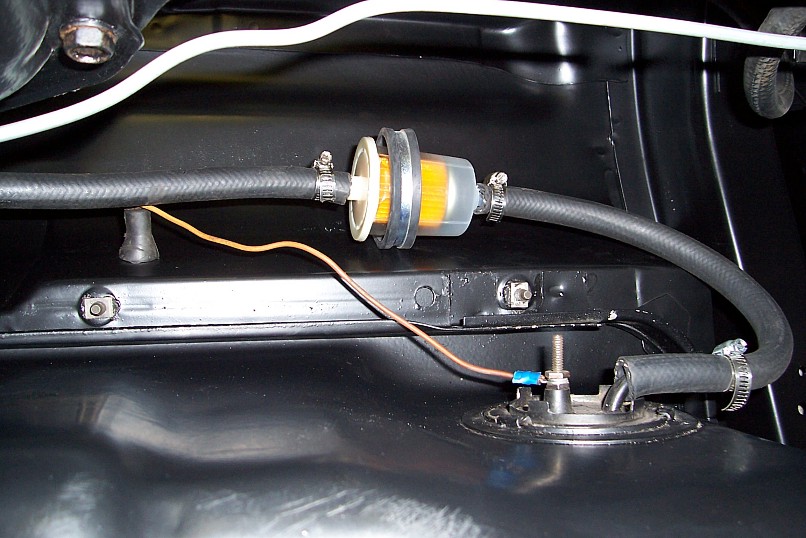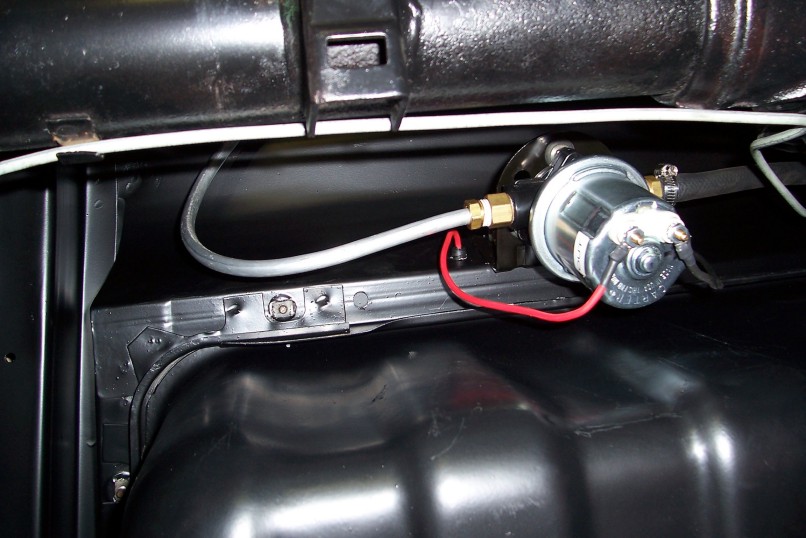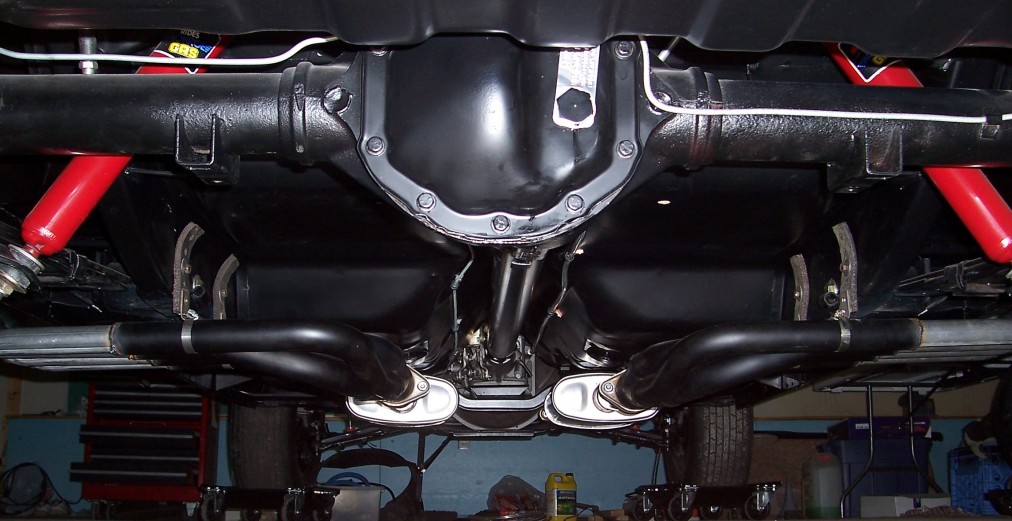 NOVEMBER 27, 2005
Added an extra fuse block/panel to make things simpler in the future, running all new wiring for the siren, radio, dash light. I'm currently trying to find the best spot for the dual siren speakers as I'd prefer to keep them
from sight and if possible, muffle them a bit as this unit is LOUD! Bought another vintage blower pulley, getting ready to fit in the dash frame. I
also bought 4 more front rims …now if I only had another XB to put them on eh??
DECEMBER 29, 2005
Heading out to new body shop…see ya next year !!