January 11, 2002
Picked up my 2 GT hoods today from the freight company. The
yellow/black hood is rust free while the other will make a suitable
"spare". Big thanks to Troy Goodno for all the trouble he went thru to
get these to me.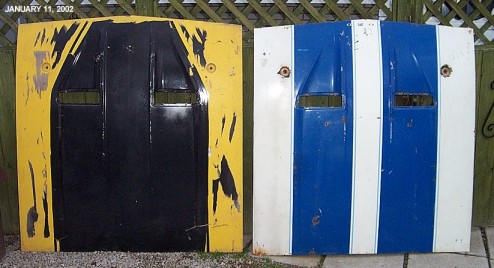 January 14, 2002
New Weiand drive arrived. Need to get more lexan for headlamp covers as I goofed on the new set I was making.
January 19, 2002

Finally got the car on video driving around, thanks to Kevin and Brian
who drove 3 hours to see the car. Also picked up the correct rear tires. I
thought they were 60's on the movie car until I found these.  
 (hard to see the detail here so check your own DVD or VHS copy)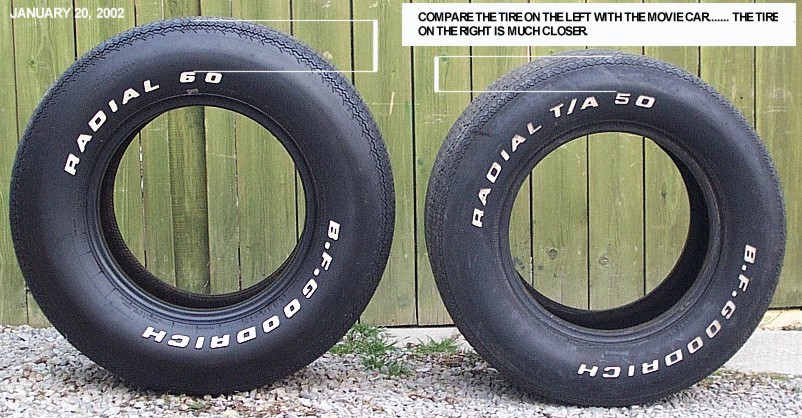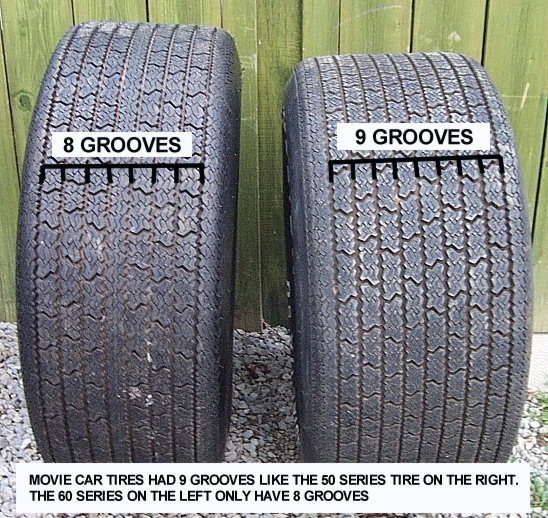 January 23, 2002
Received new steering wheel and adapter, speedo cable, door handles
and an AWESUM XC Cobra t-shirt from Rick H. Thanks heaps mate !!
February 1, 2002
A true car nut and amazing when it comes to fiberglass has passed away
this day. Larry Rook from Brantford Ontario was one of the first guys to see my coupe when I brought it home. If it were not for the fact he lived so far away, Larry would have had the job of doing all the fiberglass work
on the project…… he will be missed!!
February 10, 2002
Received flares from Gordon Hayes. Customs however wanted an outrageous duty even though they destroyed the parts while trying to open
Gordons very secure packing. Needless to say I left them with customs.
February 15, 2002
Finished stripping and repainting steering wheel and now looking for suitable center piece.
February 25, 2002
Working on more accurate pair of MFP fender badges.
March 15, 2002
Planning out the body work details with Canadian Custom Fiberglass.
March 22, 2002
Brand new door panels have arrived at Ricks. Waiting for more trim pieces to arrive before they're shipped to me.
March 27, 2002
Starting custom zoomie tips. Having a die made up for the 'trumpet' flares. Tips will be made up from stainless at Alloy Options.
March 30, 2002
Bought one vintage (like new) B.F. Goodrich F-60-15 for the front.
April 3, 2002
Located a suitable steering wheel center.
April 6, 2002
Cut the tubing for zoomies and flared the tips.
April 7, 2002
Bought 2 more vintage B.F. Goodrich F-60-15 for the front that are also in mint condition. The hunt for tires is over …..or is it ?
April 13, 2002
Bill B (the guy that likes to kiss the Scott inj) came down again and gave
me a hand to install the lift kit for the rear springs.
April 15, 2002
Rick is taking my dash pad in for retrimming and will be sending off with the rest of the interior parts.
April 30, 2002
Picked up MSD 6AL to use with factory small cap elec distributor.
May 4, 2002
Install GT side flutes, strip off some more paint.
May 11, 2002
Quickly sprayed the whole car with black primer until it's ready for the
body shop. Thanks to Bill Budd for his help. Took the car for a longer than normal drive and sent a group of kids playing street hockey into shock.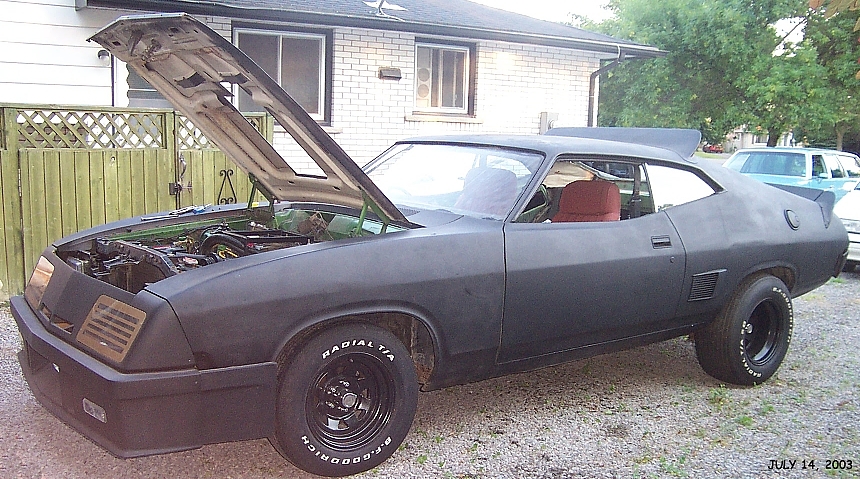 May 16, 2002
Well, I bought another…..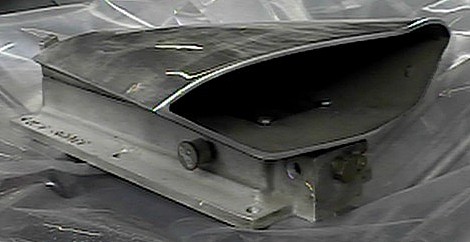 June 2, 2002
Attended the all Ford meet in Carlisle, PA. USA and met with other Aussie Falcon owners. I'll add a pic or two soon. Picked up some parts from
Tom N and Terry J.

June 4, 2002
Bought new front coil springs.
June 17, 2002
Restored new Scott injection.
June 21, 2002
Did a mock up with the zoomies tips to assure they looked correct. Now I
just need to finally grind off the welds and polish them up.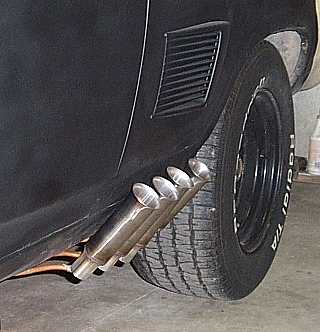 June 22, 2002
Install new front springs but had to remove them as they were not right. Mustang springs are not correct so I 'm now using 1970 Cougar springs.
JULY 4, 2002
Finally fnished zoomie tips, now planning out the rest of the exhaust.
July 20, 2002
Stripped the Weiand drive of the gray paint and I'm now just leaving it with the fresh glass beaded finish. Weathering in time will give it the proper look.
August 1, 2002
Bill Budd came down for another visit so we installed the rear lift kit and the car now sits at the right height. Also shot some new video and let Bill take the coupe for a drive.
August 8, 2002
Captured some DVD stills with a new program that give an amazing zoom and clarity…many new details found and I have a few changes to make in my plans… I'll post these new details when the car is done.
August 24, 2002
Footwell panels were covered with carpet so I removed it and spent some time cleaning off the contact cement. I found out that the drivers side panel is actually brown so now I need a one in black.
September 6, 2002
New trim panels and dash pad will be on the way within a week !!
Thanks to Rick H, Cam M, Dave J.
October 3, 2002
GT armrests and a few other smaller parts arrived today, thanks to Scott P in Sydney.
October 5, 2002
Finally installed the electronic distrbutor and MSD 6AL also added new
elec choke…… what a difference !! Now making plans to remove engine
and gear box to restore engine bay, will also be freshening up the motor and going thru the gearbox.
October 20, 2002
Another great find.. just picked up a pair of vintage BFG L-50-15 tires that were never mounted….. one even has the sticker on the treads still.
Proper storage since 1976 has kept them in mint condition.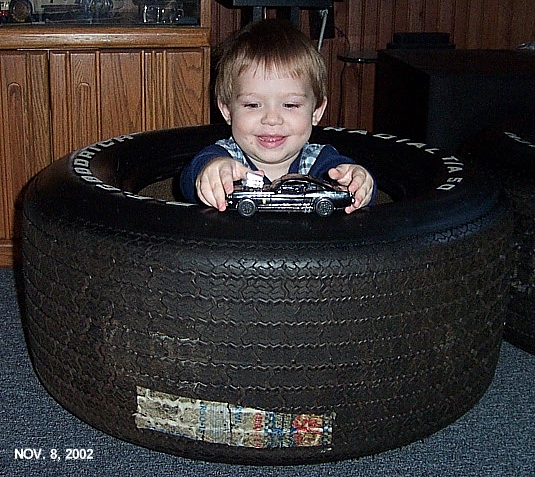 November 2, 2002
Bought a third pair of L-50-15 from a local guy that was using them for
templates to tub out cars. These will make a great pair for those burnout videos
November 11, 2002
Attempted to hook up the e-brake cable to the rear calipers but they seem to have different lever on them compared to all the pics in any of my XB manuals. I also need to replace the front cable as for some reason it has been cut.
November 14, 2002
Just spent an hour on the phone with Mel Scott… the creator of the Scott
injector. His wife Elle and he put together a large package that was filled with old photos,catalogs, tech papers, original decals and sent it off to me this week Special thanks again to Mel and Elle.
November 21, 2002
Altered the rear brackets for the hand brake, cleaned and painted all
brackets. Finally adjusted the shifter linkage. Will be completing the
sound board for MFP radio tonight. Special thanks to Ryan Keast who
designed and built the board.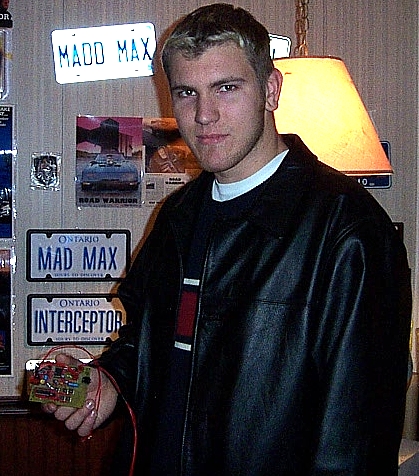 November 26, 2002
Removed all 4 brake calipers to restore them. They all work fine, just
need cleaning up. Will also be maching/changing rotors.
December 31, 2002
Well….not much more to add for this year. Still working on obtaining
more 'bits and pieces'. All the best to everyone in 2003 !!