Many people have assisted me during this project, weather it be sending me classified adverts, parts, or advice. It would be unfair to say that some have helped more than others. As far as I'm concerned EVERYONE was a great help. The list to follow is in no specific order and I will give a brief description as to the way they've contributed their much appreciated efforts. Some names have been linked (underlined text) to pictures of that person and/or their own projects or business information.
---
Sam Costanzo, QSLD Aus – magazines, parts, many hours thru ICQ discussing details regarding the project. Also spent much time helping me find an XB to start with. Sam has an excellent XB sedan that being converted into Max's yellow Interceptor.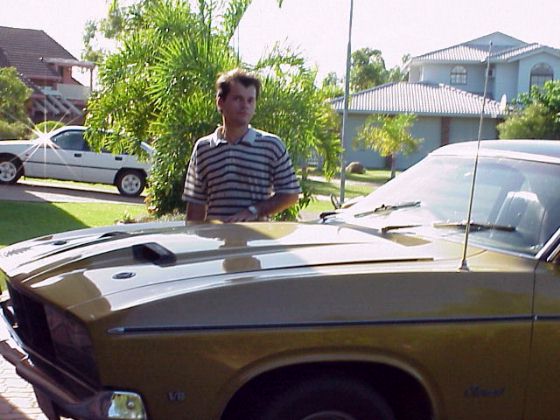 Rick Haslewood, Sydney Aus – Rick went out of his was to get some pics of my Falcon shortly after Sean had picked it up. These pics helped me to determine what parts were needed right away.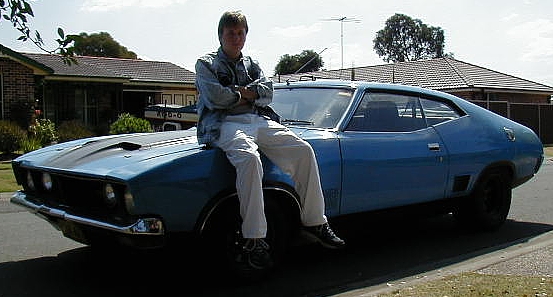 Sean Lang, Sydney Aus – This is the fella that bought the car for me and then brought it back
to his place. He also made the shipping arrangments and saved me over $2000 in costs.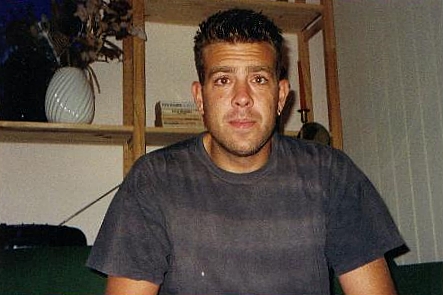 Extra special thanks to Sam, Sean and Rick. These guys have been a great help and expected absolutely nothing in return. It is people like this that keep my faith in this system. Remember guys……what goes around, WILL come around!
Peter Barton, Aus – No need to explain his involvment. If it wasn't for his Mad Max site I'd still be wasting my time collecting Star Wars toys.
Gordon Hayes, Aus – His fantastic replica was the first produced. I spent many hours staring
at the pics from his website. Gordon has also contributed to getting some pieces for my Falcon.
Scott Smith, Aus – Scott has also helped with providing some exclusive pics of his project in the building stages. I have now aquired a complete body kit from him as well as several other little bits
Freelance Polishing, Ontario Can – The owner, Steve, is the best around. He is responsible for
the polishing and glass beading for the blower set up. Unfortunately Steve is no longer doing this as his full time carrer as a firefighter is very demanding.
Nicks New/Used Truck Parts, Ontario Can – Nathan and Randy assited in purchasing all the
'blower switches' and the revolving blue light for the dash. Have also supplied some blower parts.
Advance Spoilers, Aus – Martin originally supplied all the fiberglass parts needed for my conversion
including flares, nose piece, both spoilers, GT side scoops. He can be reached at 08-8258-4049. Be sure to mention that I sent ya there.
Frank Balbar, Ont Canada – new bearings and machining work to ensure that the blower drive
will not fail. Frank is also responsible for doing one of his 'amazing' carb rebuids and set ups on my Holley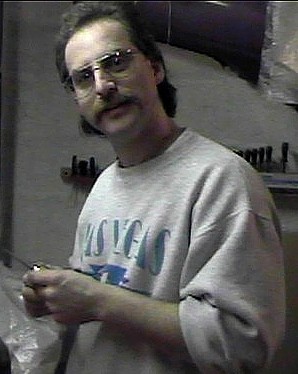 Kyneton Auto Parts, Aus – Pete supplied many interior parts from his large inventory.
Steve Pilant, USA – Provided many pictures that allowed me to obtain my Scott injectors.
Steve no longer has a web site but can be found on Peter Bartons site message board from time to time.
Dave Boboc, USA – Many useful reference pics of the Scott injector, Weiand blower drive,
and also provide me with the same type of rubber mask that Max uses in the first movie.
Chris Creasy, Vic AUS – Has been yet another great help with small parts, auto traders, Back 2 the Max T-shirt and expected nothing in return. People like this are extremely rare. My wife and I will be joining Chris and his wife soon for a tour of most of the Mad Max filming locations.
Jon's Replica Stats page – This site show's heaps of replicas from all over the world, and not just for the black coupe but many other cars from the film. A definate "must see" !
Shane is the guy to contact for refurbished and replacement goodies for your XA XB and XC Falcons. I've bought several of his items and I'm very pleased with thier quality. You can now check out his parts at: www.xbfordfalconshop.com
Theobald Laser Engraving and Graphics – Thier business name says it all however, I can't express enough how much I appreciate ALL the effort that Lee put into perfecting the MFP badges for my coupe. He has also done MFP key tags, coffee mugs, a fantastic black T-shirt with logos front and back . Lee also designed the display board that I use at car shows.