JANUARY 5, 2004
Well the new year has started off quite busy. The plans for the XB have
taken a bit of a turn. Instead of spending countless hours grinding and
sanding off 30 years of crap I've decided to get the car acid dipped which will ensure a true 'rust free' frame off restoration.
JANUARY 8, 2004
The XB is now COMPLETELY stripped and ready for a swim in the acid
tank. Recieved more rust repair panels, NOS tail lamps lenes, new cam installed and ready to finish engine assembly.
JANUARY 14, 2004
The XB has been delivered to be acid dipped. Thanks to my brother Dan
for coming along to help. The weather was against us but all went well.
For those not familiar with what acid dipping is: the bare shell and all
panels are set into a tank that will completely strip off everything and
bring the metal back to it's original finish. This will allow us to see where all rust and previous repair work was and we'll be able to either replace with new panels or properly patch.PIC 1 – Braving the elements in -35c
weather. Note the newest edition, my MFP Ford van which was just painted. PIC 2 – Sitting at the shop, waiting for the acid tank. Check out the old Porsche beside the XB.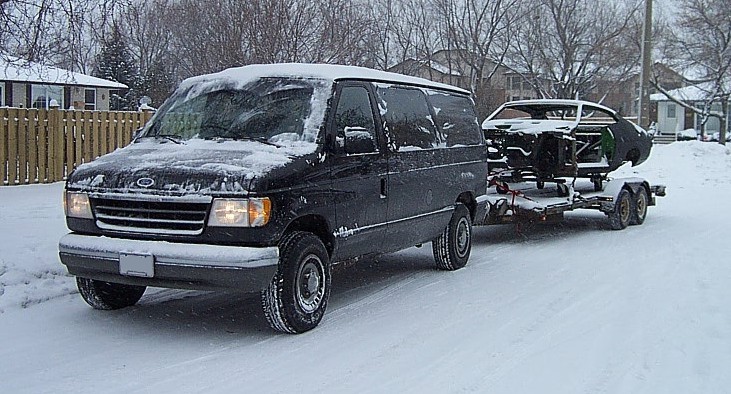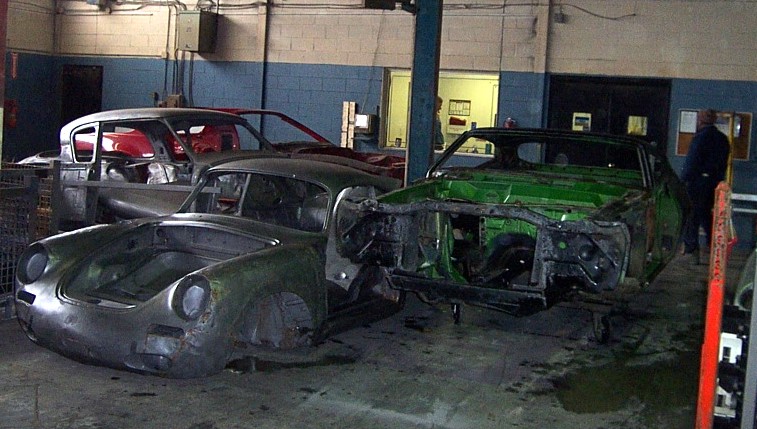 JANUARY 27, 2004
The XB is ready for pick up but once again the weather has been lousy. A new windscreen and coupe seats are on the way and I've also bought a
new set of rear leaf springs and headliner. Continue to clean parts for
reassembly.
JANUARY 30, 2004
The XB is back at the shop safe and sound. Thanks to Adam Rye for
coming along to help. The car has a coating of neutralizer on it that needs to be washed off before it can be sprayed with high solids primer…this will be my weekend chore.PIC 1 – XB back to all metal inside and out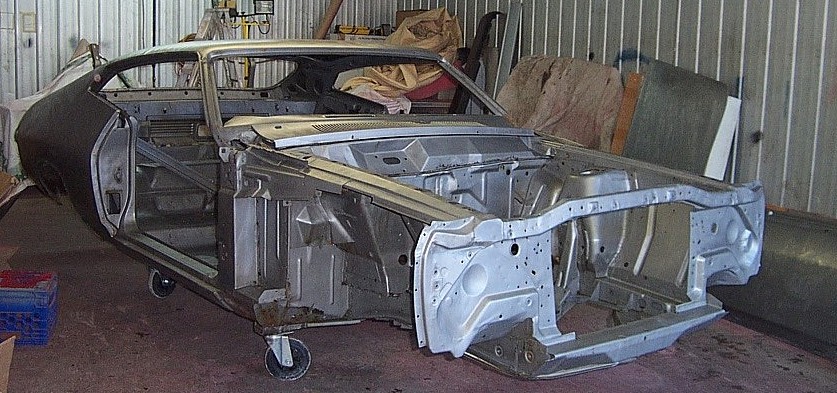 FEBRUARY 7, 2004
The complete shell and all parts have been washed down and then
sprayed with primer. The rear 1/4 panels are in better shape than I
thought but the wheel arches are being cut out anyways. I only need to
order 2 repair panels so we're in better shape than expected. Complete
weatherstrip kit, carpet, and insulation kit are on the way. Headers
(extractors) have also been acid dipped and are now in high heat black.
Engine block has been cleaned and painted and should be all back
together soon (hey…it's been cold here!)PIC 1 – In primerPIC 2 – floor and firewall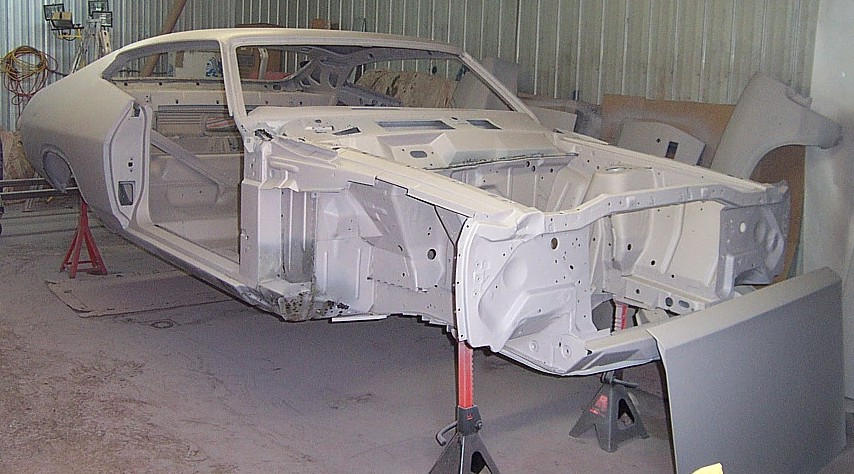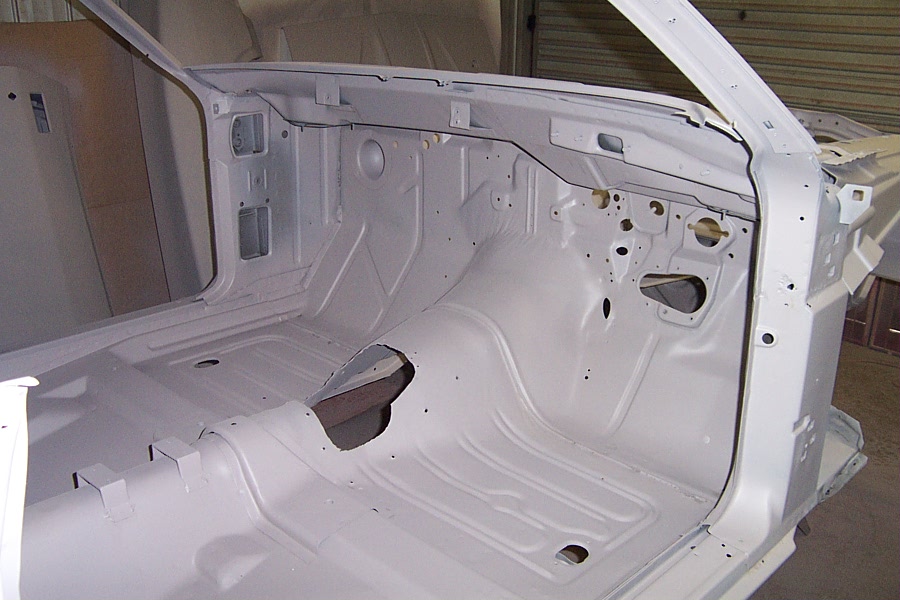 MAY 9, 2004
I've had many e-mails wondering what's happened over the past couple
of months and I apologize for neglecting the site. The delay has been
mostly due to moving house and setting up the new shop. Here's what's
new:-Engine is all back together and ready to install.-All parts ordered
are in and waiting for install once body is done. (new rubber kit, carpet
and misc dash parts)-Doors, mudguards (fenders), bonnet and boot
(hood/trunk lid) and section below 'A' piller have been patched. I had to
bring the XB back home for now though.-Had to reorganize all the parts
in the new shop and continue to restore small bits and pieces.-The rear
diff is all done and ready to go back in. I totally disassembled it to check it out thouroughly and then cleaned it up.-Finally located a set of 4 wheels that match what I had on the front. I will get these modified so that I can have a matching set for the rear as well as a couple of spares.-Located a
set of vintage mufflers that should give me the sound I'm after.-Picked up a new windscreen but it unfortunately is not what I ordered. I'll need to order another so I am selling the one I have now.Big thanks to Sam
Costanzo, Chris Creasy and EJ Zadina for all their help over the last
couple of months.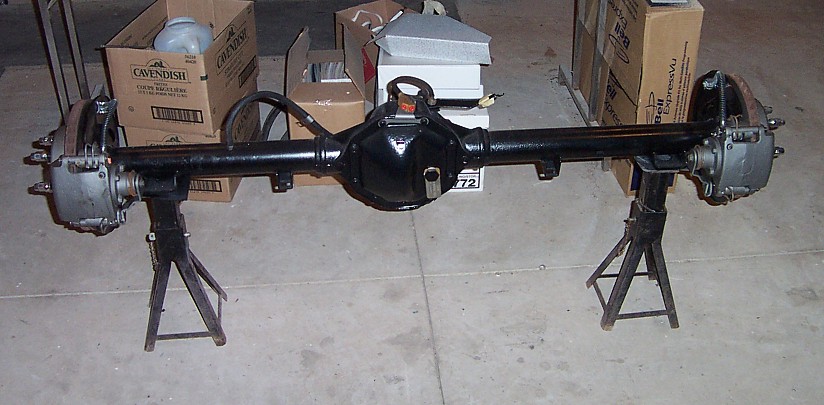 MAY 18, 2004
Received some used (but nearly mint) black seat belts for the rear. Mine were brown and in poor shape. Big thanks to 'Jaffa' in New Zealand for
his help with those and the all the other little bits he sent along. Half way
through retsoring the heater box….it's amazing what gets into these
things after 30 years. I was suprised to find the heater core in perfect
condition…a quick flush is all it needed.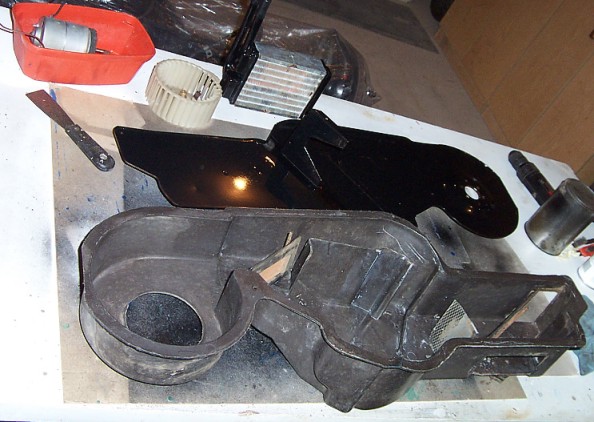 MAY 20, 2004
Heater box all redone and ready to install.
OCTOBER 14, 2004
Well,…. another few months have slipped by and not a whole lot to report other than the large package I received was a proper Arcaidipane front,
roof spoiler and the rear flares. Front flares and boot spoiler to follow
shortly. I've been asked to keep my source quiet for now though so I must respect their wishes.I've also been very busy doing some renovations to my shop.The main body has been delivered to a new panel beaters shop and I'll be posting pics of the progress as it happens. (yes Bart!! some
new pics finally)I managed to buy a heap of XB parts from a guy that had to give up his "MAX" project. Included were, NOS zoomies, GT side flutes, 2 sets of tail lamps, rear tail lamp panel, steering column and a box full of smaller items. The best part was another Scott Super Slot injectoer that has been rebuilt and calibrated for street use along with a brand new
Scott pump made for the same. There was also a box of file folders
containing all of his research and even some genuine photos of the
original Mad Max car at the museum in England taken back in 1994 by
the museums owner and then forwarded.
OCTOBER 24, 2004
Finally finished the steering linkage (all new parts but had to clean and
paint) and then assembled all the parts and is ready for install. Glassbeaded the remaining upper control arm and painted it and then will rebuild. All that's left for the suspension is the front caliper rebuild/restore. I also had 8 new pipes made up that go between the zoomie pipe and the tips.
NOVEMBER 2, 2004
Have been going thru my entire inventory of parts and sorting out what needs to be restored/cleaned up. Went to the final outdoor swapmeet of the year and found another pair of vintage BFGs for the front in excellent condition. I will be finally picking up my coupe front seats this weekend and then it's off to get some retrimming done.
NOVEMBER 9, 2004
Picked up my coupe seats this past weekend so I can now focus on getting them and the rear seat retrimmed. I just received another Maxrob steering wheel that I found on ebay. This one is pefect and will end up being he one used. The other one will be used in a future project. Thanks again to Jay, EJ and Goober for a relaxing weekend.
DECEMBER 3, 2004
Just returned from checking out the progress on the coupe at the shop
where the body/paint will be done. The XB has been there for about a
month but another project was in line ahead of me. I will post more on
the guy doing it in the near future. About 1/2 of the patchwork has been
completed including the panel below the rear window, boot channels and the seam on the firewall. There were a few other spots that had some
small holes but I was able to obtain some pieces cut from other coupes and these were then used. As for the progress in my shop: I've restored the
steering wheel, glass beaded some more small items, prepping all the
window chrome and wipers for paint, sorting thru more parts. I took my seats to a few different places and got the usual overpriced quotes.
However, one guy looked at me and simlpy said "why not just vinyl dye
them?". There is a product out there the I was aware of (used by a fellow member of the Falcon Club) that this guy also highly recommended. He
even went so far as to guarantee me that if the dye wears off that he'll
retrim all my seats for free. Needless to say I'll go with the dye and save
big $$$ (of course I'll spend it some other way). I was shown a few
samples of this product and I could not tell the difference between it and actual black material.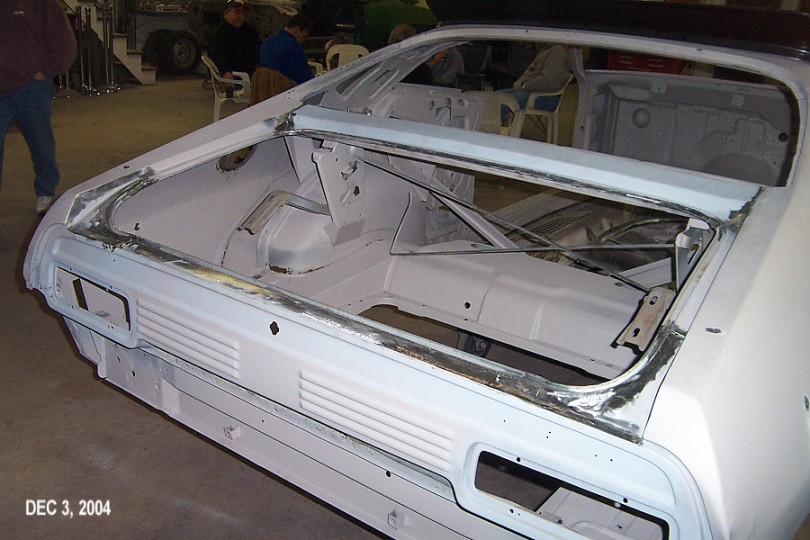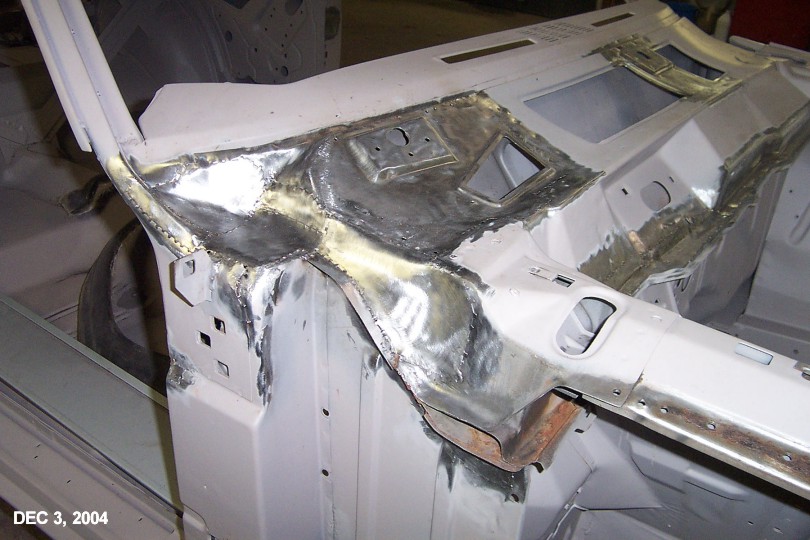 DECEMBER 7, 2004
Dropped off the rear bumper to get de-chromed and the ready for paint. Right side wheel well patched and arch has been modified for the flare.
DECEMBER 10, 2004
Another quick visit tonight. New left rocker panel/sill is on, left inner rear quarter welded in place along with a few odd spots that needed minor
attention. I must say that I'm very excited at the progress as it looks like
the XB wil be heading back to my shop ahead of schedule for the
driveline install.I've had a few e-mails lately asking about the costs into
my project and if I'm willing to sell…..NOT going to happen !!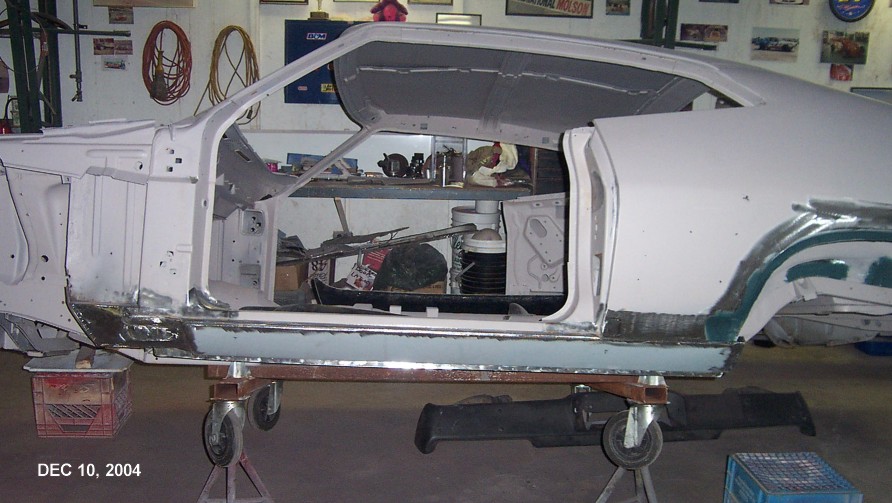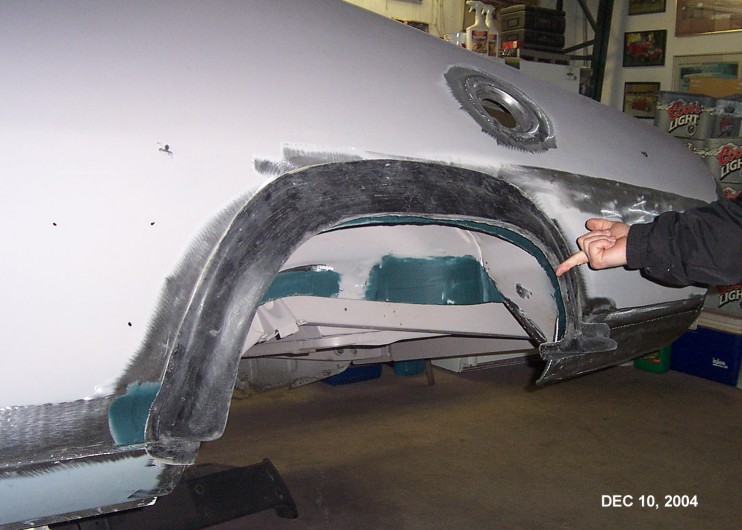 DECEMBER 17, 2004
The back end (tail panel) is all fixed up now. Only a few people were
aware that my vehicle had received some damage during shipping and
the back corners and bumper were damaged but was covered by the
insurance . Naturally I was all frustrated when I first saw this and for the last couple of years I thought it would never be the same however once
Rick worked his magic you'd swear there was never any damage to begin with. All that's left to weld is the right side sill panel and a bit of
patchwork in the right wheel well. Still a bit of a delay on the front flares and boot spoiler but I know it'll be worth the wait. A big thanks to Bill
Budd for his help this weekend !PIC 1PIC 2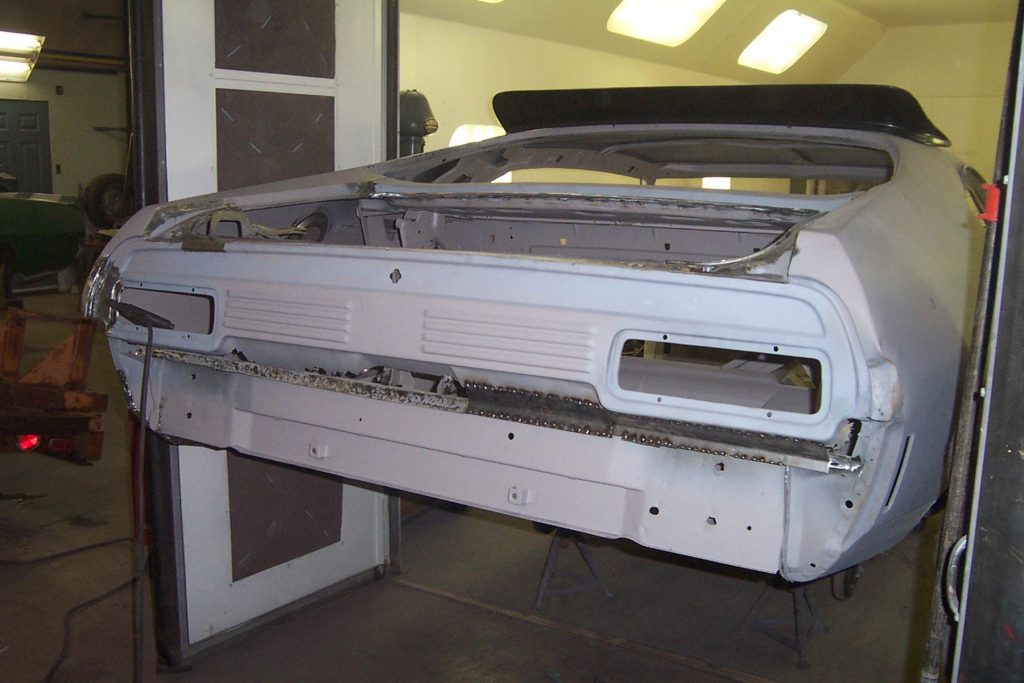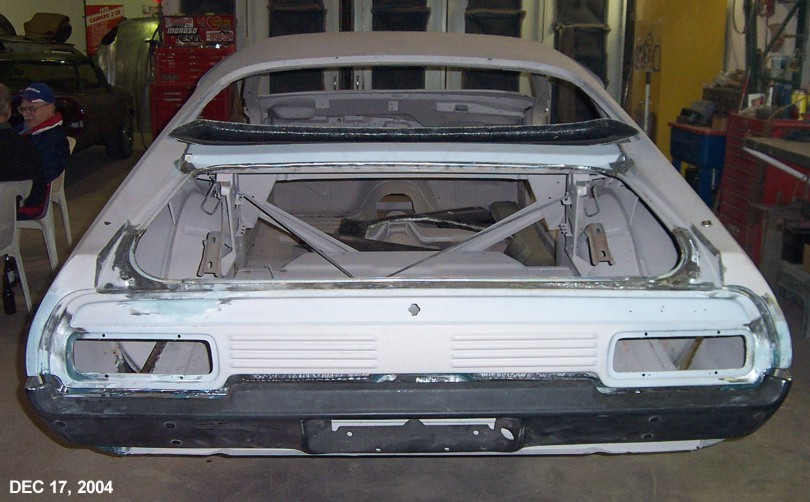 DECEMBER 22, 2004
Right side sill and lower quarter are on and right wheel well is also fixed and modified for the flare. Boot lid has been test fitted to assure
everything is straight. The new rubber seal fits great and the lid closes
like it did when new. The only welding left to do is on the torque boxes.
They have some holes but fortunately nothing to worry about but I want
to make sure they'll handle the added engine power. I was not going to
bother with a 9 inch diff for now but that may change this weekend if all goes well.