Jan 6, 2001
Rear blower cover finished.
Jan 9, 2001
Idler pulley and custom belt fitted. Blower is basically done !!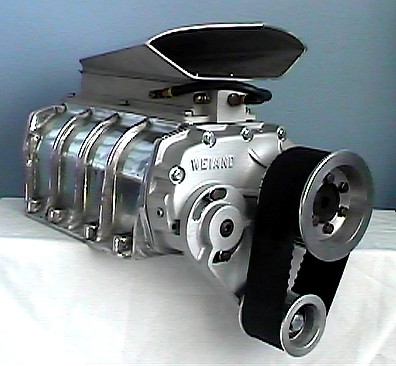 Jan 16, 2001
Fabricating another rear blower cover from softer aluminum. Also doing some top secret work for the supercharger.
Jan 28, 2001
Picked up some spare engine parts from a local private sale….nice and
cheap.
Feb 6, 2001
Rick H just located and bought some more trim parts for me.
Feb 9, 2001
Falcon arrived earlier this week but I was only able to get the customs
paperwork completed today. Will be picking up the car in a few days.
Feb 14, 2001
Car has cleared all customs inspections with flying colors. Finished the
remainder of paper work…and of course, pay the duties.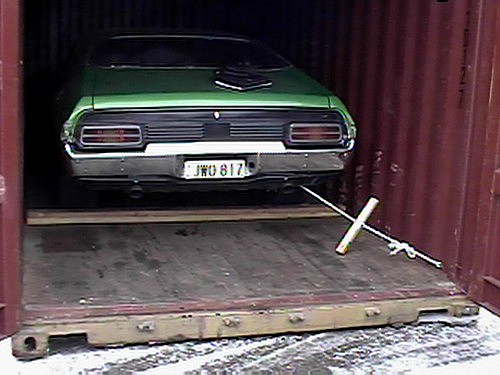 Feb 15, 2001
WOOHOO!! The XB is finally home. I've never seen the car in person before and this was a real treat. It's pretty much what I expected as it needs to be stripped down and cleaned up but I can't complain for a $1100 US investment. My friend Ian Hill lining up the XB for it's trailer ride home.
Once the roads have dried up a bit I'll be going for a small criuse around
the block.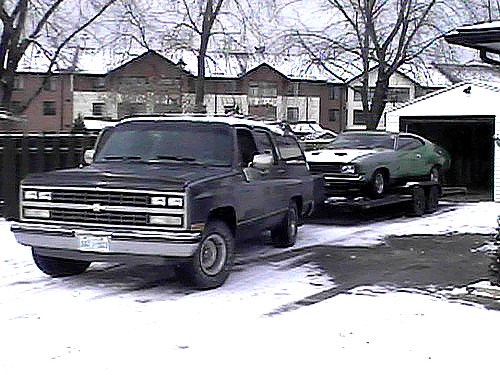 Feb 16, 2001
Going over complete car to see what other parts I need and pointing out
any rust spots that need repair.
Feb 17, 2001
Need to replace 4 core plugs (frost plugs).
Feb 20, 2001
Cores plugs all done. Took car for a drive around the block…What a
RUSH!!! I needed a 'fix' so I set the blower up to show some friends. Also stripped out the 'birds nest' of wiring around the ignition that was part
of the alarm.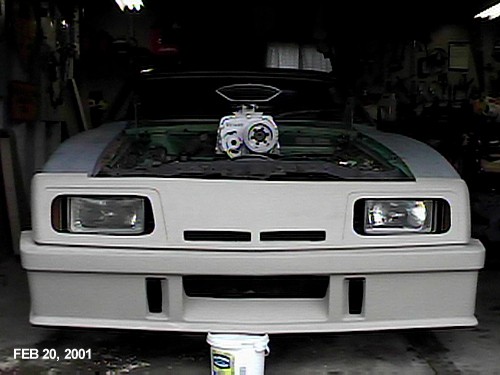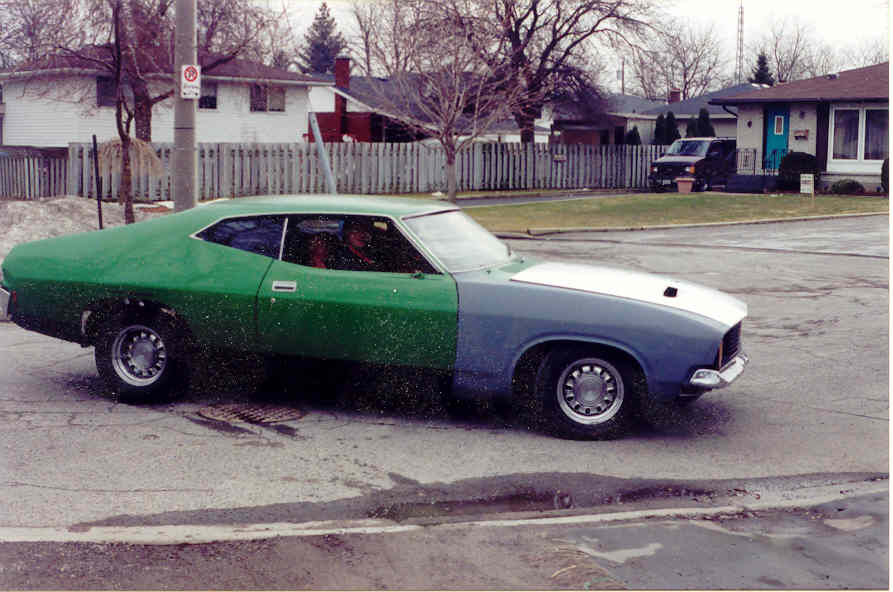 Feb 27, 2001
Removed fuel tank to get cleaned out and coated. Remove rear bumper.  Test fit my 15×10 rims….perfect offset. Rear disc calipers found to be all  new as are the rotors,lines, e-brake cables. Underside in perfect
condition. Removed grille,front bumper, stone tray and headlamp
assemblies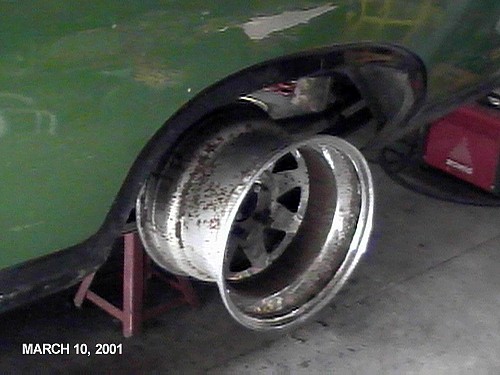 Mar 5, 2001
Falcon is now certified and legally on the road. Working on getting black
interior and rear flares.
Mar 6, 2001
Received GT honeycomb panel. GT quarter glass and door trim, new top
loader shift knob. Thanks to Rick H for the trade.
Mar 7, 2001
Sold the 12 slots. Removed back seat and all trim panels. Position
headlamps in proper spot and had to straighten out the brackets. Located front rims…… I just need to convince the guy that he doesn't want them
anymore.
Mar 8, 2001
Gas tank is all fixed up and looking good, just need to give it a thorough
cleaning and then paint it.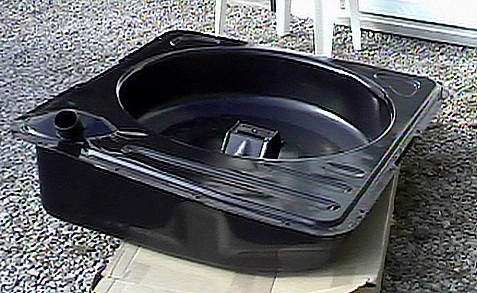 Mar 15, 2001
Wire wheeled entire gas tank and then painted. Located and bought 4
front rims (different guy from above) These rims are also a perfect offset.
Mar 19, 2001
All 4 rims sent in for shot blasting and powder coating. Received NOS tail light lenses and used headers (extractors).
Mar 20, 2001
Picked up four matching rims/tires to use for moving the car around and also found another 8 spoke rim (6″ wide though) to use as spare. Having some more parts shipped over via Sam.
Mar 24. 2001
Restoring tail lamp housings and side marker lamps.
Mar 26, 2001
Working out the measurments for cutting the hole in the hood.
Mar 28, 2001
All 4 rims back from being blasted/coated.
April 3, 2001
Rear wiring harness cleaned up (had provisions for trailer) as it was a
mess. Clean/fix fuel tank sending unit and recalibrate. Trunk needed a
serious cleaning with varsol to get rid of 27 years worth of dirt/grease.
April 8, 2001
Removed 2V carb and intake manifold to make way for Holley 750cfm.
April 10, 2001
Glassbead 4V Edelbrock intake and paint it black.
April 12. 2001
Rebuild Holley 750 (Thanks Frank) and gather parts needed for swap.
April 19, 2001
Picked up 5hp compressor and hooked it all up…not much done on car today.
April 20, 2001
Received MFP radio from Slippery Sam today…what an excellent piece!!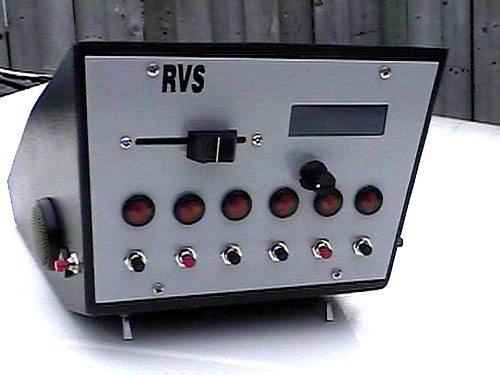 April 25, 2001
Picked up another pair of rear rims.
May 3, 2001
Received roof spoiler from Gordon Hayes.
May 5, 2001
Finally fired up the car with the new carb/intake. Working on getting new electronic ignition set up.
May 7, 2001
Removing items from inner fenders/firewall and prep for sandblasting.
Also picked up metal tubing for nose piece braces and blower braces.
May 16, 2001
Ordered more parts from Sam.
May 21, 2001
Frank came by and fine tuned the new carb…..what a MONSTER now!!!
May 22, 2001
Stripped paint from GT side flutes, start fabricating blower frame, measure and mark hood for hole to be cut.
May 26, 2001
Got more pulleys/brackets from wreckers, cut hole in hood..perfect fit !!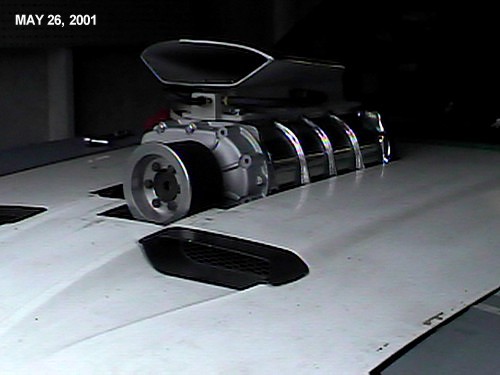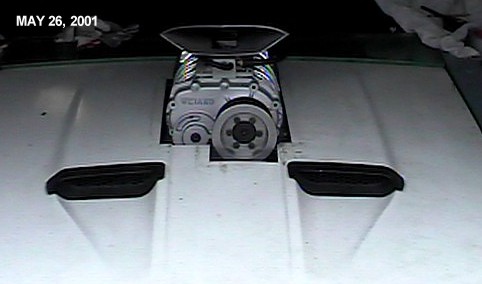 June 12, 2001
Not much to report really.. ordered some more parts from Sam, sprayed
black guide coat on front end and annoying the nieghbours with the
blower whine.
July 4, 2001
Waiting for more parts to complete the front end. Took the car for a
longer than normal drive the other day…woohoo !! Put finishing touches on blower bracket, fabricated an air cleaner set up (fresh air), installed
larger rear tires on spare 8 spokes wheels.
July 6, 2001
Made up one of the headlamp covers to see how it turn out. It looks good enough for me so I'm now making a set to use on the car.
July 10, 2001
Received the parts from Sam: complete XC headlamp brackets, inner fender panels, new battery tray, XB GT decal set, new interior lamps.
July 11, 2001
Glass bead and paint headlamp brackets and prep for fitment.
July 14, 2001
A friend of mine named Rusty came over to start helping with the front end installation. We managed to get the front bracing about 80% done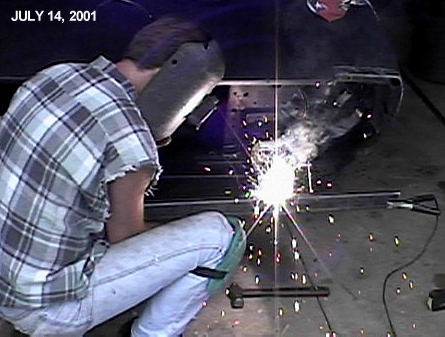 July 16, 2001
Working on getting a rad custom made as the one in the car is only a 2
core.
July 24, 2001
Finished polishing the insides of the tail lamp housings and replaced all
the mounting studs. This will make for a bit brighter light

July 27, 2001
Lots done today… removed front and rear windshields, prepped the roof
spoiler and started to chemical srtip the body (roof and trunk lid).
July 30, 2001
Relocating the A/C unit to prevent 'crowding' and also trying out different pulleys.
August 5-6, 2001
Customized origianl A/C brackets (extensively) for new location of compressor, just need to glassbead and paint. Tore down compressor and
removed pistons, modified housing to hold oil, reassembled and painted. Now need to slightly modify the idler pulley for correct spacing.
August 10, 2001
All pulleys and brackets painted, everything bolted up and just waiting
for the custom spacer to be finished so I'll work on the wiring for the
blower switch in the mean time.
August 12, 2001
Spacer all done but I goofed up on the size of pulley needed on the A/C
compressor. I was using a small pulley from an alternator but it wasn't
getting the right RPMs to make the belt "whine".
August 16, 2001
Well…. blower is all done, the switch is all hooked up and works great !!
Sept 8, 2001
Installed XC headlamps, hunting down a pair of BF Goodrich L-60-15.
Scott Smith in Australia claims this to be the correct size for the rear.
Glassbeading/sandblasting more small parts.
Sept 24, 2001
The 2 XB GT bonnets have arrived in the USA and we're making arrangements for shipping them.
October 5, 2001
Not much done on car lately. Located 1 NOS BF tire but still need another. Have been spending most of my spare time on locating and pricing parts. Looking for another way to ship the 2 bonnets to me as UPS won't do it.
October 14, 2001
Located 2 spare XC headlamps via Sam (go figure). Not happy with the
color used to restore the Weiand drive and Scott injections and after 6
months of trial and error I found the correct color to simulate that cast
aluminium look. The cast blast paint I originally used is just too bright for these parts.
October 20, 2001
The NOS BF tire was not correct as the word 'RADIAL' was absent. What a wasted drive !!
October 27, 2001
Bought pair NOS BF Goodrich tires for the rear. The word "T/A" is
missing but their much closer than any new BF tires available. Special
thanks to Vic Andrusiw for a great deal !! However, they just don't look
right to me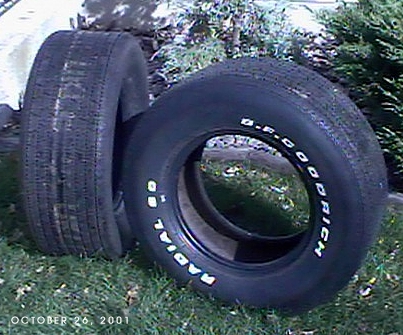 November 16, 2001
Found an all aluminum A/C compressor identical to what I have so I'll be converting it to use on the car instead of the very heavy one I'm using
now.
December 27, 2001
Once again, not much done except waiting on a few parts, pricing more
parts, finished a set of "trial" headlamps covers, bought another Weiand drive for a spare.